| | | | |
| --- | --- | --- | --- |
| << | Bac Ha yarns | < | > |
The various tribes of the H'Mong people can be identified by traditional patterns and colours of clothing. The Flower H'Mong women have embraced modern synthetic dyes and fabrics with a vengeance, and their clothes when new are a dazzling swirl of bright colours. Fake velvet in blues and greens, tufted and with polkadots seems to be all the rage. In this picture, women are choosing from the many brightly coloured yarns at a stall in the Saturday markets in Bac Ha. The woman in the foreground is holding sugar cane, a ubiquitous source of food in the mountains. At Sapa the weekend markets have degenerated to the point where most people are selling tourist trinkets. Locals at Bac Ha haven't yet caught on to the fact that selling food, firewood and tobacco to each other is less lucrative than selling clothing and jewellery to tourists, so you are free to walk around without the constant harassment of "you like, you like!". How long will it stay that way?
Tourist dollars may be an easier living than subsistence farming, but what is the effect on their culture and traditions of turning a generation of children into beggars? On the bright side, some of them demonstrate great resourcefulness and entrepreneurialism, selling Coke and Sprite on walking trails miles from the nearest fridge, or acting as guides and interpreters - it was quite a surprise to hear a young (about 13?) girl in Sapa speak near fluent english. As a tourist, who am I to criticise the changes brought upon them by tourism, and begrudge them the increased living standards they can buy with the dollars they earn from us? Reverse cultural imperialism? If you have any interesting links on Vietnamese culture or the ethics of tourism, email me.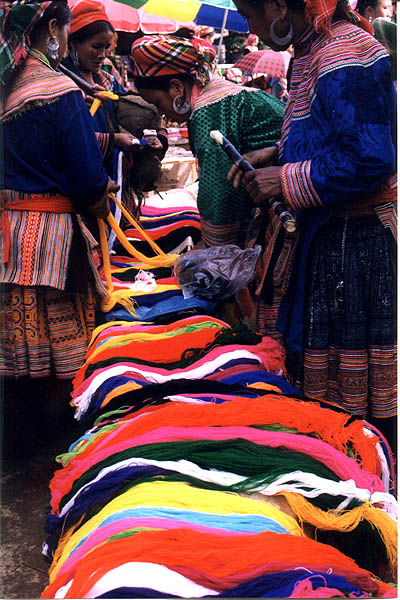 Olympus OM1, Zuiko 35-70 f4 @35mm f4, Konica Impresa 50
© Katrina Webster, Jan 2000