| | | | |
| --- | --- | --- | --- |
| << | Group at Ho Chi Minh's mausoleum | < | > |
A group of tourism students from Hanoi University practice their trade (and their English) with our group of Aussies, seen here in front of the mausoleum of "Uncle Ho", President Ho Chi Minh. Ho Chi Minh is remarkably well preserved (he is rejuvenated yearly in Beijing) and under the sodium lights of the mausoleum looks as if he is merely sleeping. The people seem genuinely respectful, even fond of their old leader - he seems to represent the hopes offered by the communist ideal, without bearing the burden of it's many failures in practice.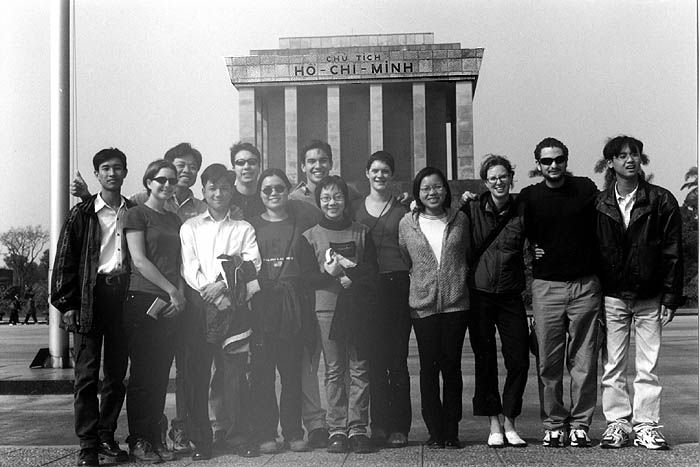 Olympus OM 1, Zuiko 35-70 f4, Fuji Superia 100 (Converted to B&W in Photoshop. The white streak running through the frame is the result of the film tearing and being exposed to light when removing it from the camera, and was more annoying in the original colour picture)
" Katrina Webster, Jan 2000